HOME > Products > Heat Transfer Machine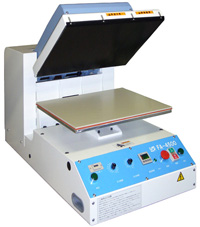 Features
The lower table is positioned in the center and enables even pressure across the table.

The upper and lower limit of temperature can be adjusted according to the application temperature.

Safe design to prevent accidents of pressing a hand – the start button needs to be turned on with both hands.
Setting instruction

Place silicone (thickness -1cm) on the table for heat application.
Note

Do not use silicone of more than 1cm thickness (total) since it may cause breaking of the pressure arm.
Place the machine on a firm and level basis, strong enough to endure the machine weight of 150kg.
Attached accessories:
Replacement aluminum tables --- in 3 sizes:
500mm x 400mm, 350mm x 250mm, 160mm x 160mm
Silicon rubber (500mm x 400mm) --- 1 pc
Silicon sponge (500mm x 400mm) ---1 pc
Silicon rubber for cutting (500mm x 400mm) ---1 pc
Optional accessories:
Silicon rubber (500mm x 400mm) for regular use
Silicon rubber for cutting (500mm x 400mm)
Maximum Pressure:
500g/cm2
 (overall dimension of 500mm x 400mm)